Headway ABI takes pride in providing comfortable, safe and welcoming home environments for residents, their families and loved ones. Our housing options cater for different levels of ability, age, gender and long and short-term accommodation. All are low-set houses with private back yards, all common areas are furnished, the kitchens are equipped, and each option has a barbecue and outdoor seating. Supported accommodation also features Respite with 24/7 rostered staff provided by, or on behalf of, a disability service provider.
In the Gold Coast region, Headway ABI's accommodation options include:
SIL refers to the support or supervision of daily tasks allowing people to live independently. SIL accommodation is funded individually, according to need. Other features include: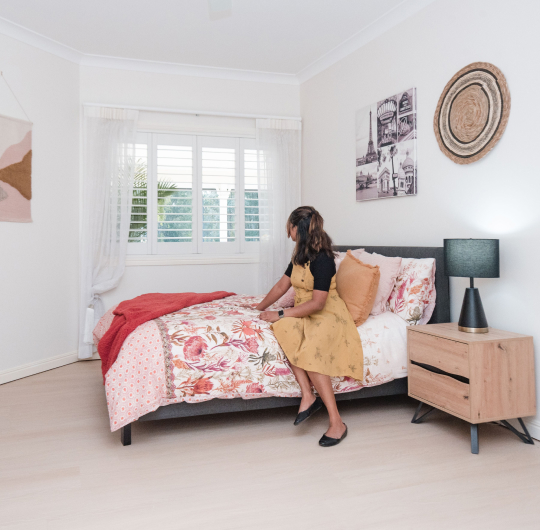 Headway ABI offers transitional accommodation for instances when you or your loved one are awaiting permanent housing. We offer housing while you transition from hospital, rehabilitation, aged care or other supported accommodation.
SDA refers to accommodation for people with severe functional impairment or highly complex support needs, who require specialist housing alternatives. SDA is designed to enable eligible NDIS participants to receive the necessary support enabling them to live in the community. Improved delivery of support is another priority.
Under the NDIS, Short Term Accommodation and Assistance (STAA) replaces what used to be called Respite for people with a disability. STAA refers to:
People need Respite care for various reasons and there are plenty of options. For example, Headway ABI is based on the Gold Coast and we think our city is a great place for Respite. Come stay and play for a while, enjoying all that the Gold Coast has to offer – from the beach and the theme parks to the hinterland and more. There is no shortage of things to see and do.
If you are unsure about funding for STAA, your support coordinator can advise you on the funding available within your NDIS plan.
Before you enter Respite, Headway ABI will meet to discuss a range of considerations around your needs and goals. These include: