At Headway ABI, we call Scott Painter our walking miracle. Considering Scott's inspiring journey from brain tumour and stroke victim on life support, to his role as a clinical exercise physiologist helping others with Acquired Brain Injury, it is easy to understand why.
Scott Painter was just 17 and working on a farm in northern NSW when he was struck down with a cerebellum haemangioma (brain tumour). It was the beginning of an incredible ordeal which, fortunately, has led to an inspirational outcome.
"I was completing some farm work on my tractor which required me to constantly turn my head to look behind me," recalls Scott. "After developing a very sore neck, I went to my doctor and he prescribed some anti-inflammatory creams which had no effect. I then visited my chiropractor, but my neck still did not improve."
With his pain now severe and unrelenting, Scott's next step was to an acupuncturist. However, while rising from the table, he lapsed into a coma and was rushed to Lismore Base Hospital. An ensuing MRI scan revealed a mass wrapped around Scott's cerebellum and brain stem.
"I was transported to a hospital on the Gold Coast and 24 hours later was the subject of a Code Blue call over the loudspeaker. I had stopped breathing and had to be placed on life support. I went into major surgery to remove the tumour," says Scott.
"Due to the surgery, I suffered three strokes which paralysed my whole left side. I went on to develop golden staph pseudomonas, collapsed lungs, double vision and urinary tract infections."
Incredibly, Scott survived but still faced many challenges. Put simply: "I had to learn to walk, talk and eat again."
The road back to health and function started when he began working with a physiotherapist.
"First, I had to learn how to sit; then came standing for up to a minute," says Scott. "My blood pressure would drop, leaving me dizzy and light-headed. I blacked out and constantly fell over. However, once my blood pressure settled to a normal level, I re-learned to walk up to 100 metres, albeit with assistance from a person for fall prevention."
"Meanwhile, I had lost the ability to talk and swallow due to the paralysis of my voice box, tongue and the muscles of my oesophagus. I underwent extensive speech therapy to be able to talk and eat again. I was fed through a nasal tube for the first two months in hospital and, since it was going to be long-term throat paralysis, I underwent a procedure to be "peg fed" via a tube through my skin and into my stomach."
As all this was happening, Scott underwent weekly occupational therapy to restore movement and function to his left arm and left hand.
Six months after his coma, Scott left hospital. He could talk, walk 100 metres, but the ability to swallow was still another year away. He also attended an outpatient rehabilitation program, until the cost of the sessions became an issue.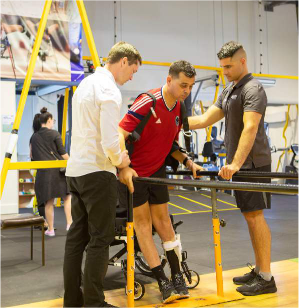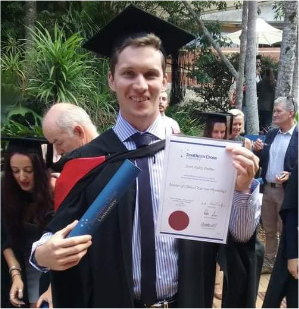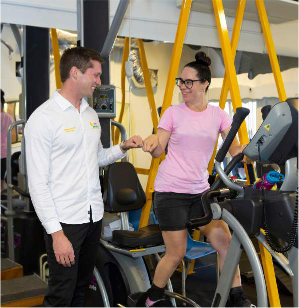 "I thought I could do this for myself," says Scott. "By this time,I had paid for physiotherapy for more than three years and about the same for optometry – due to my double vision. With the help of my family, I converted my garage into my own rehabilitation gymnasium to complete extra self-management rehabilitation.
"I participated in rehabilitation every day for seven years in my garage gymnasium, engaging in cardiovascular work, muscle strengthening, balance retraining exercises and vision exercises.
"As I improved, the benefits I was getting from physical therapy rehabilitation made me want to help others with a physical disability to attain a better quality of life."
Scott enrolled at Southern Cross University in Lismore to study Exercise Science and Nutrition, followed by a Master of Clinical Exercise Physiology, specialising in neurological studies.
"I wanted to help others that were once like me and that is what brought me to Headway ABI. I am now a clinical exercise physiologist specialising in neurological rehabilitation," he says.
"It is remarkable the technology we have at our Gold Coast facility. We are helping people to start walking again, to increase their cardiovascular fitness, improve muscle strength, range of motion and motor control, and to increase their balance and cognitive performance.
"When it comes to brain injury, I have been on both sides of the fence, as participant and practitioner. I believe this gives me great insight and empathy as I work with participants. I think that makes me a very rare allied healthcare practitioner and I am so proud of the work we are doing here at Headway ABI on the Gold Coast.
"I hope my experience is an example of what is possible. So, stay strong and always think positive."
Pop on in to see me at my Gold Coast Centre…
s.painter@headwayabi.org