Wings Wellbeing Centre at Headway ABI is transforming the lives of people with an Acquired Brain Injury on the Gold Coast. Under the expert guidance of clinical exercise physiologist Scott Painter, this remarkable facility is geared towards achieving maximum independence, function and general wellbeing.
Along with state-of-the-art equipment such as the ICARE Elliptical Trainer and Jintronix gaming therapy software, Wings rehabilitation and recovery sessions are developed specifically for the individual and focused on optimal health, ability and quality of life.
If you have suffered a brain injury, Wings Wellbeing Centre, as a registered NDIS provider, should be able to help you. As is the case with Headway ABI, the Wings Wellbeing Centre can be accessed through your NDIS Plan.
If you have NDIS, Headway ABI Australia Wings-can help self-managed, plan-managed and NDIA managed participants with Exercise Physiology services. If you would like to find out if you are eligible for the NDIS, or for more information, please visit ndis.gov.au.
If you do not have an NDIS Plan, you may be eligible if:
Medicare: Tell your GP that you would like to consult an exercise physiologist through a Chronic Disease Management plan. This service is a Bulk Bill category, and you will be entitled to a rebate through Medicare.
Private health: Ask your health fund if you are covered for exercise physiology. If so, you can access Wings Wellbeing Centre and claim the visit – or part of it – through your fund.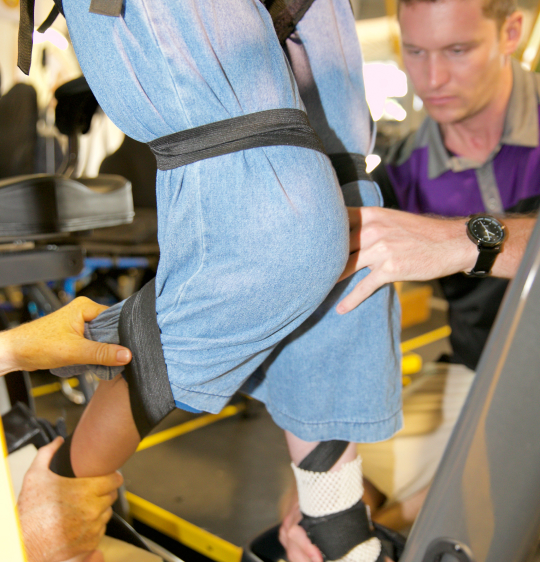 ICARE ELLIPTICAL TRAINER
The ICARE is a body-weight supported Elliptical trainer that assists with a safe, effective method for retraining the brain injured person's physiologically lost functions that have been severely reduced by the brain injury.
The ICARE at our facility can accommodate with any type of brain injured persons, from wheelchair bound (unable to stand) to people who have very limited mobility and want to learn how to walk again.
For more information about the ICARE
At Headway ABI Australia, we have two ICARE units available for use. Get in touch today to use this life changing equipment.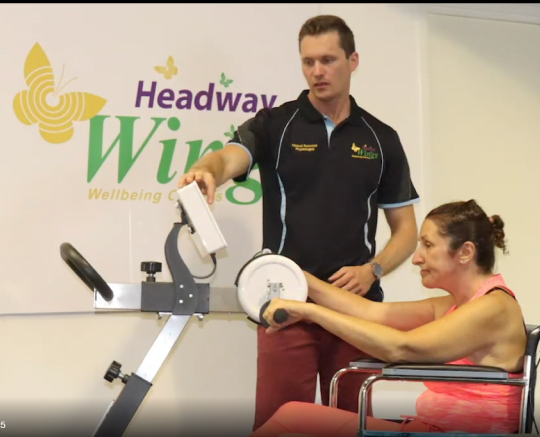 MOTOLIFE EVO
The Motolife at our Wings centre is a device suitable for all types of people with brain injuries, no matter what your mobility status is. This piece of equipment can be used in the comfort of your wheelchair, so you don't have to get out of it, and you still benefit from the passive-active mobilization of your lower and upper limbs.
Improve your:
For more, visit; https://www.rehabtechnology.com.au/motolife/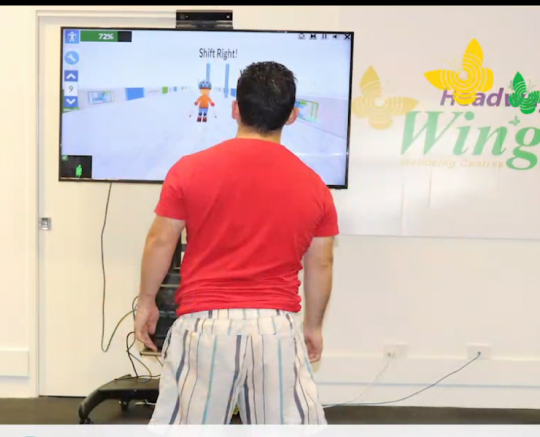 JINTRONIX
Jintronix is a fun and engaging gamification technology that is suitable for all types of brain injuries. This piece of equipment is tailored to you by your Allied Health professional to suit your mobility status, so that you can increase your limited mobility. You don't even have to leave the comfort of your wheelchair.
For more info, see https://jintronix.com/
CABLE MACHINE:
Cable machine, which allows us to complete resistance training of various muscle groups. Resistance training is important for clients in order to maintain muscle mass, which will improve their ability to complete activities of daily living, as well as muscles involved in balance and posture.
Free weights: Free weights such as dumbbells, resistance bands, wobble boards, Swiss balls. These are also available for use at our facility
Arm ergometer: This piece of equipment can be used in a seated or standing position. You can safely work on strengthening and mobilizing both of your arms in the comfort of your wheelchair or in standing. For more info https://www.youtube.com/watch?v=HQ1hPROm7gU
Parallel bars: Standing and walking with the security of holding onto the bars. Walking in the parallel bars are a great way of slowing down the walking movement where you can focus on the spatial-temporal parameters required for efficient walking. For more info https://www.youtube.com/watch?v=R8vWLVhbeAU
Rail hoists: Here at Wings there are rail hoists that are capable of suspending a person up to 200kg, so you can safely engage in all exercises without the risk of falling.
Recumbent cycle: This piece of equipment is used to exercise your lower limbs. Simply transfer to the recumbent cycles seat and pedal away to help increase muscle strength, increase blood flow, increase cardiorespiratory fitness and increase your range of motion. For more info https://www.youtube.com/watch?v=XugMoMDxyhM
Vibration platform: This device places a small/gentle vibration through your skeletal system. The vibration platform assists with recovery after exercise, may help with increasing proprioception and may help increase bone mineral density. For more info https://www.youtube.com/watch?v=zMx0hjdjR5k